Here's a story of a lovely lady....Oh that sounds too much like the "Brady Bunch". I am dating myself here. This beautiful remount is
generations of love
all wrapped into one. I can't say enough about this wonderful couple. And she was our VIP winner at Christmas! Certainly a "blingy" Holdiay Season! Enjoy and dream!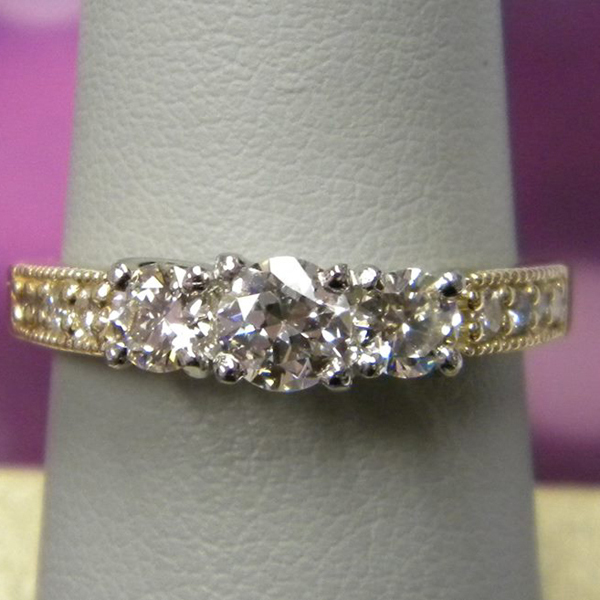 Three larger diamonds set in white gold prongs very close together. An antique style shank with pavee set diamonds and a milgrain edge add to the detail.
AT: 01/18/2018 02:48:43 PM
0 COMMENTS
Sunday, December 24, 2017
by Diana Jewelers of Liverpool
This beautiful set comes with beautiful sentiment. A center diamond, pair of earrings, band and most importantly a wide yellow gold band from this client's father created the perfect set. Using the diamonds in the new engagement ring, the yellow gold bands perfectly frame the new engagement ring. And the best part? The hand engraving from her father's ring is still present. Merry Christmas and Happy New Year!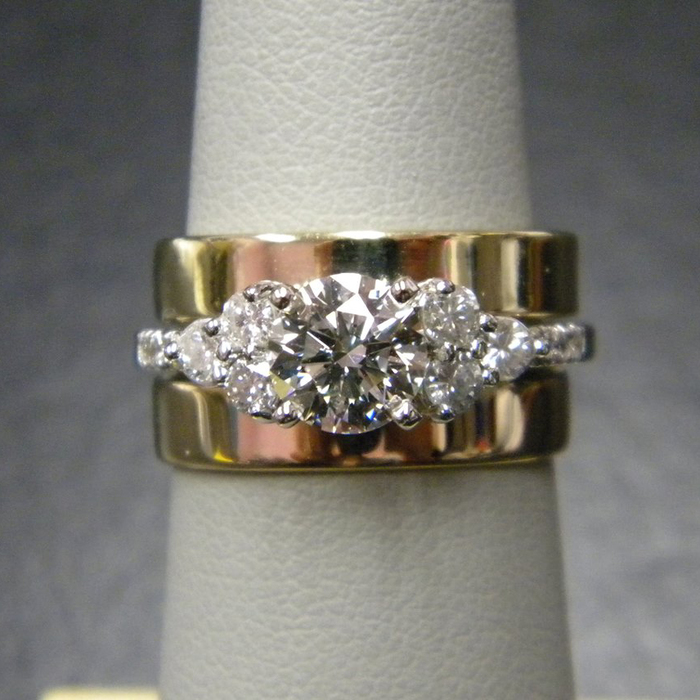 Six larger side diamonds are from earrings. Imagine your possibiliti...
VIEW FULL ENTRY
AT: 12/24/2017 07:34:44 PM
0 COMMENTS
Friday, October 20, 2017
by Diana Jewelers of Liverpool
The client's
stunning mounting has a new addition
; a beautiful radiant cut diamond. Classic and timeless.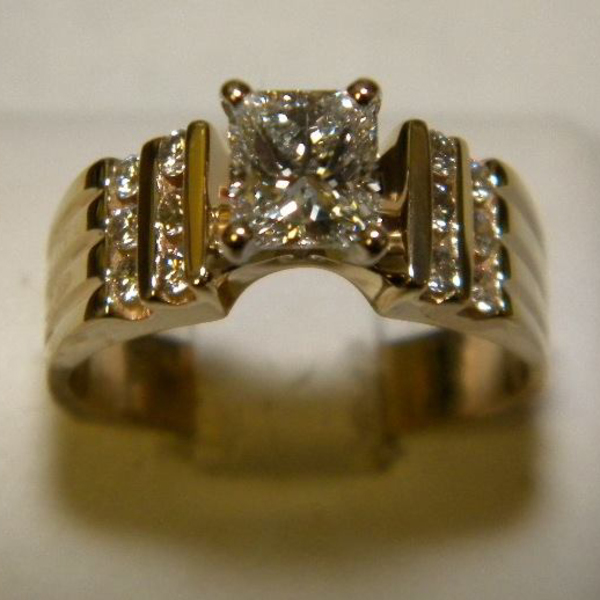 Let our
Custom Design Gallery
be your inspiration to update your unworn, broken, and outdated jewelry. Our friendly, trained staff is here to help you transform your bling into something that will be treasured for generations to come.
...
VIEW FULL ENTRY
AT: 10/20/2017 04:40:42 PM
0 COMMENTS
Saturday, October 14, 2017
by Diana Jewelers of Liverpool
This is a gift of rings from grandmother to granddaughter which were transformed into a
new pendant and ring
. She will always have her grandmother with her. A simple style that will be in style for generations. She has both ring and pendant to remind her of her Grandmother. This story touched my heart. I know how our daughter feels about loosing my Mother so I can appreciate this young woman's love for her Grandmother. This is a great example of the value of sentiment. She really wasn't concerned on the identity of the stones. She simply wanted to wear them.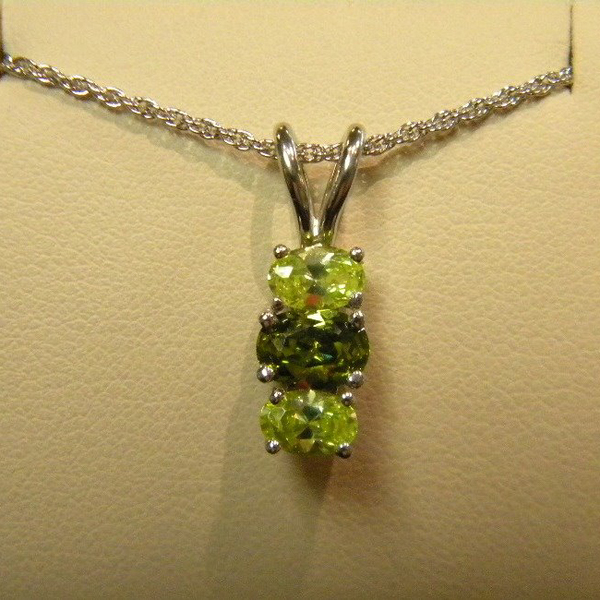 VIEW FULL ENTRY
AT: 10/14/2017 03:43:39 PM
0 COMMENTS
Monday, October 09, 2017
by Diana Jewelers of Liverpool
Here's
a different twist on the popular halo setting
. This client had an oval solitaire engagement ring. Her idea was to add her children and grandchildren's stones around her center; almost forming a 'family circle' around her diamond. Luckily the halo had just the right amount of settings so each person had 2 stones. The halo was added to her existing ring and her center diamond reset.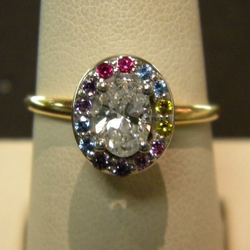 Do you have jewelry that needs a style upgrade? Take a look at our
Custom Design Gallery
for som...
VIEW FULL ENTRY
AT: 10/09/2017 04:27:54 PM
0 COMMENTS
Friday, September 29, 2017
by Diana Jewelers of Liverpool
I have been so excited to show you this final recreated piece. And, this lady is truly as lovely as her new ring. She brought in a ring, a pair of channel set diamond earrings and two diamond pendants. Her request was something on the wider side, but also delicate. Together with some "visual aids" we took the journey from a quick sketch and the final computer rendering to the gorgeous result. She simply imagined the possibilities. Enjoy and have a great weekend!
Here are her original pieces. You can see her engagement ring, diamond freeform pendant, diamond hoop earrings and a 5 diamond pendant: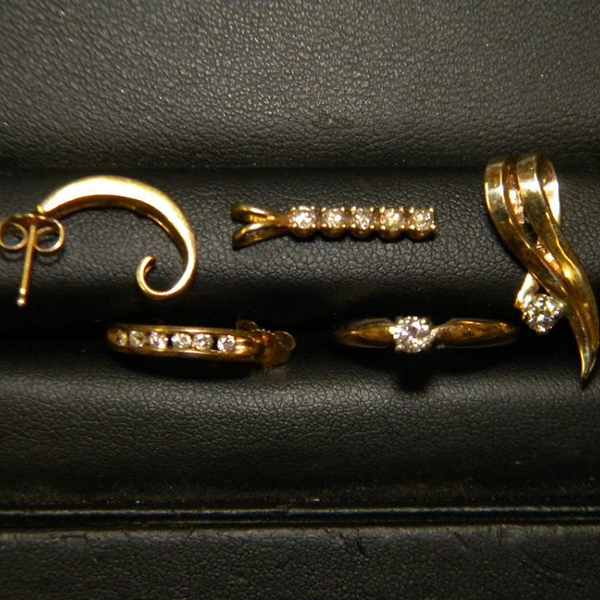 VIEW FULL ENTRY
AT: 09/29/2017 04:07:01 PM
0 COMMENTS
Friday, September 22, 2017
by Diana Jewelers of Liverpool
Here's some
creative resetting ideas
on this "summer" Friday morning! A wedding ring created for a new bride using her fiance's grandmother's diamonds in a popular single row bezel band. Delicate, yet durable.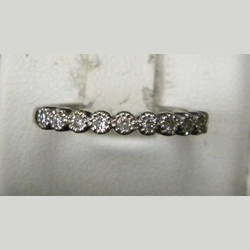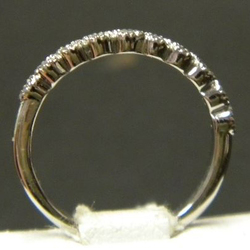 Also, a three stone ring us...
VIEW FULL ENTRY
AT: 09/22/2017 06:22:34 PM
0 COMMENTS
Friday, September 08, 2017
by Diana Jewelers of Liverpool
A client came in with her original loose diamond, a diamond pendant, a pair of diamond earrings,a diamond ring and a pendant enhancer. The loose diamond is now a beautiful solitaire pinkie ring and the pendant and earrings?...Take a look at the "antique" inspired pendant she created. For the pendant, we used existing settings but fashioned them together in an nontraditional way.
So elegant
. And there is a ring coming next...so stay tuned...more to come! bb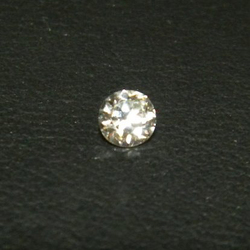 This single diamond was the client's first diamon...
VIEW FULL ENTRY
AT: 09/08/2017 07:19:39 PM
0 COMMENTS
Tuesday, September 05, 2017
by Diana Jewelers of Liverpool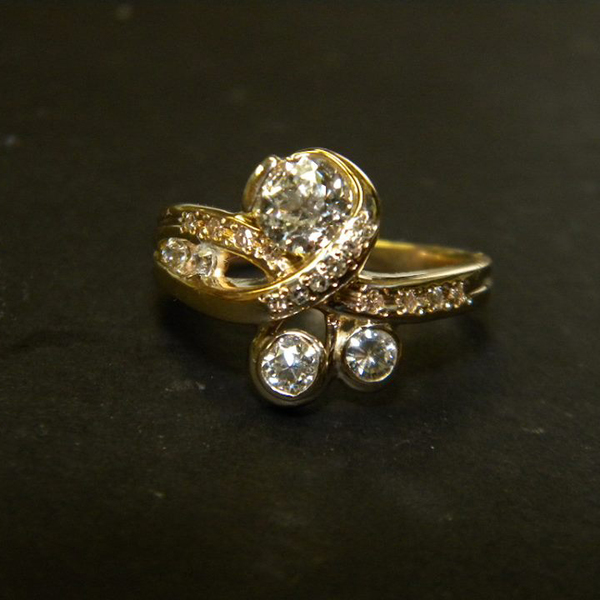 I wanted to share this touching story with you. Our client's mother and her best friend shared joy and loss throughout their friendship and when it was time to pass on both ladies rings, our client was the recipient. A story of enduring friendship and strength is represented with their stones. Our client added her own engagement ring and the diamond from her husband's grandmother and the result is generations of family and best friends in this
one of a kind treasure
. Enjoy! bb
VIEW FULL ENTRY
AT: 09/05/2017 07:36:11 PM
0 COMMENTS
Sunday, August 27, 2017
by Diana Jewelers of Liverpool
Hello everyone! What a glorious day. So many commented on enjoying pictures showing possibilities of re-purposing "bling". Here's one of my favorites for two reasons; not only is the final product stunning but the diamonds came from items many have that may be unworn. A simple diamond pendant and stud earrings became this
rose and white gold ring
. With no prongs to catch, this simple and elegant style could be worn daily. Enjoy!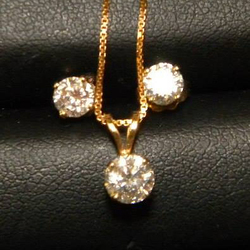 The client's original set with about a 1/2 ct diamond pendant a...
VIEW FULL ENTRY
AT: 08/27/2017 08:01:28 PM
0 COMMENTS
Thursday, August 24, 2017
by Diana Jewelers of Liverpool
There is so much emotion attached to jewelry; love, commitment, celebration, transition, new beginnings, cherished memories of loved ones gone. I had the honor to be a part of one story recently by designing, with a lovely client, what we named her "BGR" aka "
Big Girl Ring
". She chose an antique mounting and a created Alexandrite, a stone that changes color in different light. Although similar to its natural counterpart, this stone is less expensive and quite an eye catcher. Enjoy! betsy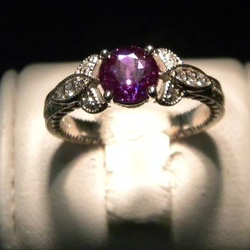 Enjoy the different ton...
VIEW FULL ENTRY
AT: 08/24/2017 08:20:15 PM
0 COMMENTS
Saturday, August 19, 2017
by Diana Jewelers of Liverpool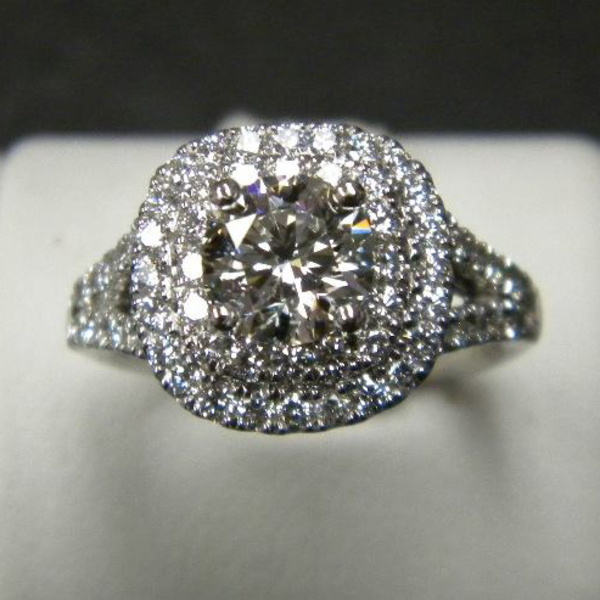 Happy Saturday! When a client comes in for a repurposing of jewelry I explain there are three layers to that onion:
1-A new ring in our stock fits the stone perfectly and a new ring is born!
2-With thousands of pieces already available, we find the perfect piece already made that matches her stone(s) size(s) and set the stones.
3-The client likes a certain style from different pieces but her stones may not match settings that already exist. So, we make it from scratch.
In my postings, you have seen all...
VIEW FULL ENTRY
AT: 08/19/2017 08:34:04 PM
0 COMMENTS
Wednesday, December 02, 2015
by Betsy
One of the most rewarding parts of the job is having wonderful clients. And we understand when they come with their assortment of jewelry to be redesigned; it holds more meaning to all of us because it isn't only about the new ring. It is the story of combining the memories in all the pieces into one piece. And odds are that no matter what the design, those memories carry with them every emotion surrounding life's events; marriage, children, careers, parents, grandchildren. Simply put; life's ups and downs.
It was our privilege to create a design for one of our favorite people because she is so special to our hearts. Her redesign story is simple: create
something new from my engagement ring, anniversary ring and perhaps a pair of earrings
. Each piece h...
VIEW FULL ENTRY
AT: 12/02/2015 02:25:11 PM
0 COMMENTS
Monday, November 23, 2015
by Betsy
The request:
Create
a design incorporating the diamonds into one ring
that can be worn daily, making the center diamond low, but with some detail to make it stand out, as it was the client's original diamond.
The design:
- Using 6 large diamonds from the oldest cluster ring, we created a channel using three diamonds on each side of the center diamond. The sides are slightly raised to allow light into these stones as well as keeping the profile of the center low, per the client's request.
-The center diamond is set in a low, custom designed head with a very special touch. On each side of the center diamond, at the base, are set four small diamonds in the curve of the head. These 8 small diamonds were from the client's mother's engagement ring ...
VIEW FULL ENTRY
AT: 11/23/2015 12:48:18 PM
0 COMMENTS
Sunday, November 01, 2015
by Betsy
Almost nothing feels as special or personal as a customized piece of jewelry. Necklaces and bracelets always feel fancy no matter what, but there is extra significance in a piece that bears the wearer's name.
Monogram's collection of jewelry sets itself apart from other customized accessory lines. Instead of spelling out the wearer's name or initials in an obvious way, Monogram, based out of New Hyde Park, NY, incorporates initials into delicate, ornate gossamer designs. At first glance, the pieces look like abstract filigree charms. This makes the jewelry even more meaningful to the person wearing it, because the significance is a secret just for her and the person who gave it to her.
Women gravitate toward the pendant necklaces first, since they remind wearers of the nameplate necklaces they wore as children. The initials ...
VIEW FULL ENTRY
AT: 11/01/2015 02:34:08 PM
0 COMMENTS
Thursday, October 15, 2015
by Betsy
A client brought in both her wedding ring and engagement ring. As you can see prongs on her engagement ring were very bent. We used all her diamonds and added just four in the halo and the small ones on the side.
The result?
An entirely new look she loves.
AT: 10/15/2015 12:30:28 PM
0 COMMENTS
Sunday, September 20, 2015
by Betsy
AT: 09/20/2015 11:40:35 AM
0 COMMENTS
Friday, September 04, 2015
by Betsy
AT: 09/04/2015 12:50:50 PM
0 COMMENTS
Monday, August 10, 2015
by Betsy
AT: 08/10/2015 12:02:03 PM
0 COMMENTS
Tuesday, August 04, 2015
by Betsy
AT: 08/04/2015 02:30:58 PM
0 COMMENTS
Sunday, July 19, 2015
by Betsy
AT: 07/19/2015 02:46:25 PM
0 COMMENTS
Sunday, June 28, 2015
by Betsy
AT: 06/28/2015 11:21:22 AM
0 COMMENTS
Wednesday, April 01, 2015
by Betsy
AT: 04/01/2015 10:54:28 AM
0 COMMENTS
Wednesday, September 29, 2010
AT: 09/29/2010 11:37:56 PM
1 COMMENT