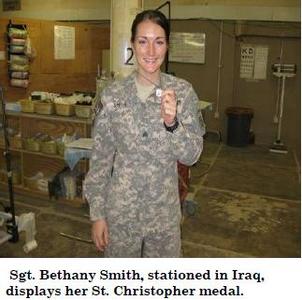 Diana's continues to give our servicemen and women, those presently deployed or who have been deployed in the past, a complementary St. Christopher medal in appreciation for the great sacrifice they make.
The medal is available by simply stopping in, giving us the name and, if you like, a picture of the service person to proudly display. It is our hope that the medals will provide comfort to individuals and families in
this difficult time. The medals are round, about 3/4 inch in size with St. Christopher on the front and engraving on the back.
To date we have given away about 120 medals and will continue to supply them until further notice.