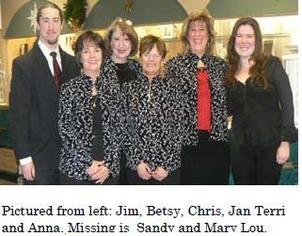 Frequently, at jewelry shows, I speak with other jewelers from throughout the country. They are amazed when I tell them about our staff here at Diana Jewelers. Terri has been here 37 years and Chris 35 years.
The key to our success is our staff. They are incredibly talented, but also keenly interested in serving our customers, solving whatever situation you have.
Do we have our "discussions"? Yes, we do! But we try to approach every day with humor, integrity and compassion. We are incredibly aware that our attitude will effect everyone we meet. We try to maintain smiles...and when that's difficult to do, I always recommend dark chocolate!
I sincerely hope you've enjoyed this newsletter. Again, thank you, and from our Diana's family to yours, may this New Year bring you many blessings.
-Betsy