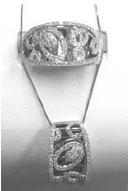 Argentium Silver by Argento d'Italia
This beautiful line has the look, feel and styling of Italian gold at a fraction of the price. These pieces are fashioned from Argentium Silver by Italian artisans. Argentium is a precious alloy used in silver and unlike sterling, it has a lasting shine and is the most tarnish resistant silver available today. Yellow, pink and white pieces are plated with gold for a lasting finish. For years, customers have brought in pieces of "good gold" from Italy in 14K or 18K. Made by the same artisans who make the gold pieces, these fashion pieces, bracelets and earrings by Argento d'Italia have the same finish as the gold pieces we all admire. A piece in gold, with the same style and finish would cost about 4 times the price of the Argentium silver piece.
Curved Wedding Bands
If finding a wedding band to fit against your engagement ring is difficult, we have an assortment of different curved styles that will have good "buttability" and start at just $335.00.
Stunning Rose Gold
We have some elegant pieces of rose gold, some two tone with white gold and diamonds and filigree with black onyx. Very unique and classy.
Sara Blaine
New pieces incorporate a new textured finish on two tone and brass pieces. Elegant and feminine with just a touch of funky, Sara's jewelry appeals to all styles and ages. Sara Blaine is where fun jewelry meets fine jewelry.
Just in time for Holiday Parties
Check out the new line of sterling and cubic zirconia jewelry. Beautiful hoop earrings, made in the same settings as their diamond counterparts, will amaze you. They look like diamonds and start at only $125.