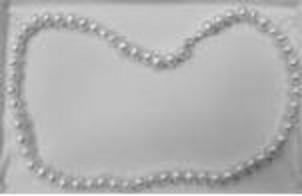 We are often asked questions on the care of jewelry and certain gemstones. We'd like to answer a few questions now with more in future issues. So, here we go!
Q. I inherited my grandmother's pearls, but I don't know if they are real or not. How do you tell?
A.
There is a way to almost completely tell, although it is a little strange to see the first time. If the pearl is genuine, it came from a living creature, either an oyster (saltwater) or a mussel (freshwater). If you gently rub the pearl on the rough edge of your front tooth and it feels gritty, like sand, it probably is real. If it feels like you are rubbing a marble against your tooth, it is a coated bead. There are some high quality imitations that are made from reconstituted sand and can feel gritty. In that case, further testing would be necessary.
Q. I've been wearing my wedding set together for 30 years and the engagement ring is very thin in the back. Do I need to replace the rings?
A.
Generally not, but we need to look at the ring to see its condition. Since the prongs and the undercarriage support and hold the center stone securely, we must be certain they're okay, or can be rebuilt. If the center is fine, we can provide an entirely new half shank, or back part of the ring, from side to side. This new piece of gold is fashioned to the same thickness at the sides and kept as thick as possible at the back to give the longest wear. If arthritic knuckles are a problem, ask about adjustable half shanks with hidden hinges that allow for an open size (over knuckle) and closed (in back of knuckle). Or ask about our swing guards.