I don't know how many of you are fans of animated movies. We all have our favorites, whether they be a little older or some more recent additions. Some have appeal that crosses generations and are classics. One of my favorites, "Finding Nemo", tells the story of Marlin, the clown fish, whose son, Nemo is captured and ends up in a fish tank. The movie follows Marlin's quest to find his son with many perils and laughs along the way. My favorite character is Nemo's traveling partner, Dorie the blue fish. Upon initially meeting Dorie you'd think she isn't the sharpest fish in the pond, however her "unique" wisdom really drives home some valuable lessons. She spends most of the movie trying to convince Marlin that life is too previous to view it as a glass half empty, but rather to look at the positives. Also she keeps Marlin encouraged by serenading him with her song: "Just keep swimming, just keep swimming..etc" it's a favorite of mine. If you ever see my children feel free to hum the song and watch their reaction. I guarantee rolling of the eyes as I usually sing the song if I sense the need, no matter where we are.
Another favorite of mine is Eeyore from Winnie the Pooh. Though bad luck seems to find Eeyore, he accepts what life throws at him, never getting mad, angry or jealous. Unlike Dorie, who smiles constantly, Eeyore's outlook isn't always as sunny. He is resigned to what comes his way. The characters approach life in a different way. Dorie is more of a constant "cheerleader" and Eeyore is just a "whatever" kind of guy. Sometimes It's hard to have a Dorie attitude, especially in these difficult times, but Eeyore is okay too. If we try to maintain a balance between our "Dorie-ish and Eeyore-ish" days, we'd all be in a great place.
Everyone needs someone in their lives who tells you things will be okay; their own personal Dorie who sees hope in the sunshine. (Yes, in Syracuse!) Hope and faith bring new life in mind, body, and soul, especially in Spring! This is the season of honoring the Dorie in the people who have always been there for us, our Moms and Dads. This Mother's Day and Father's Day consider saying thank you with a lasting gift that honors these special people. Take a look inside for ideas as well as gift suggestions for Communion and Confirmation.
And don't forget to count the Dories in this newsletter (children 10 & under) and win a gift card for Mom or Dad! Have a blessed Spring!
Redesign Photo gallery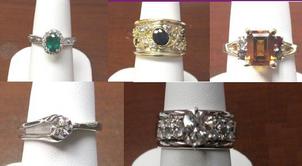 Take a look at some newly designed pieces of jewelry since our last newsletter. Some were recreations, some completely new and others were images from a sketch transformed into reality. If you can dream it, it can be done. Reset your stones and pay for the new piece with scrap gold! Design is one of our favorite parts of the business as we can created a new piece uniquely your or perhaps a few pieces from one, keeping one for yourself and passing the others on.