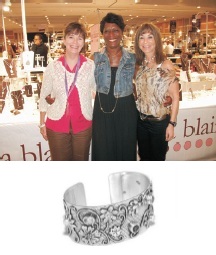 One of the most exciting parts of this business is seeing new jewelry designs introduced at the jewelry shows. Frankly, some are a little "interesting" however most are very fun and exciting. But the extra "perk" is when you get to meet the designer. One of my favorites is Sara Blaine, pictured at the far right in adjacent photo along with her assistant Marva and yours truly.
Imagine having the talent to think and then design the pieces we all wear. Sara is honestly about a size 2, mother of 4 adult children and designs jewelry for the Metropolitan Museum of Art, among others. her feminine style sterling and brass jewelry is very affordable and may be worn any time of the day.
Another favorite designer and incredible lady is Phyllis Bergman, pictured to the right with Sandy, an associate. Her bridal line is elegant and classic, with a style that is timeless. She is a mother, grandmother, and in her spare time is internationally recognized in the industry for her business and design. Pretty awesome ladies!
Click here to view our newsletter in pdf format.