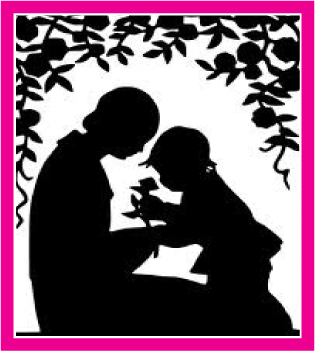 Motherhood
- I wonder how each of us would define that word. And ohhh what stories we could write! Did you notice that everything becomes "normal" in your life when you hear that someone else had a crazier experience? No that I am the mother of TWO teens, I thought those stories would subside... silly me. The stories continue but now they just have more layers and players! And everyone keeps saying "It'll be okay!" As long as I keep the little voice in my head, I am fine.
One family favorite story involves our 50 lb. dog mysteriously getting a Little Tikes tambourine over his head,
all by himself
, right before heading out to church one Thanksgiving morning. Or looking down at my feet as we were gathering last minute items heading out to Rachel's Baptism and realizing I still had on my fuzzy, pink slippers. Or Ed outside on Christmas morning at 2am "checking out" the hoof prints Santa's reindeer left. How could the toddler take the pet fish for a walk with the dog though you swear your back was turned for only a second! And the stories go on and on.
But one thing remains constant. I pray I can be the cheerleader and supporter my parents were for us. We had the best... two faith filled, hard working parents whose morals and work ethic live on in us. It is hard to believe that we have our children for only about 18 years under our roof and in those few years, we shape the next 60+ish years of their lives. No pressure!
So, as spring is upon us and we embark on the season of Mother's Day, Father's Day, First Communions, Weddings, Anniversaries, etc., let's find a way to say "thank you: or "congratulations" that is personal, intimate and unique. Ideas?:
Fingerprint
jewelry with your child's, grandmother's, parent's, etc. actual fingerprint in a piece of jewelry,
Mother and Child
pendants, new
Convertible bracelets
with interchangeable clasps, religious items, both gifts and jewelry. Pandora's new spring additions including stackable birthstone rings. We are always happy to help find the perfect gift.
So, thank you to all the mothers and fathers who studies algebra with their children, swam to the middle of the lake to catch the puppy, watched 847 baseball games in all kinds of weather, held their breath while their child lay on the floor on the basketball court, rode with their child in the ambulance, buried hamsters in pink, danced silly dances, always told them it was going to be OK, got the CALL requesting your presence immediately, laughed and cried and prayed them safe. It is never ending, all encompassing and heart stopping.
Parenthood.
The most important addition to a home comes without an owner's manual! Who knew the truth when they were small and smelled nice? To Moms and Dads everywhere, past, present and future and for children who made them gray, hold on for the ride!
The Stories continue and God smiles... Betsy and Sandy.