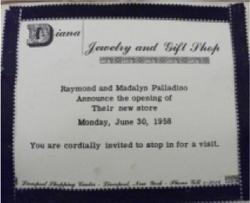 Customers come in to redesign for many reasons. I've chosen 3 special people to illustrate the process.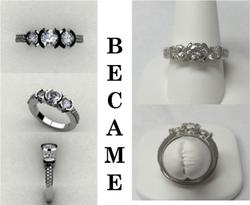 Customer #1:
Inherited diamonds, 3 different sizes, one large and two smaller, also with many small diamonds from different rings. This couple wants to make an
engagement ring and eventually wedding ring
from all the diamonds.
First, find the style she liked for the top and shank: Half bezels will allow protection, light and mask size differences.
Many of her small diamonds could be used in the shank or band of the ring.
Computer pictures (left) put our ideas into photos, incorporating different stone sizes and design ideas. These pictures are not as "soft" in their lines as the rendering, but give a good idea of the final product. Completed ring on the right.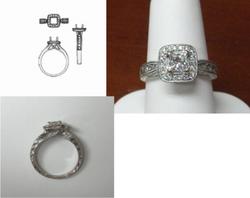 Customer #2:
This beautiful bride liked part of one ring and part of another from designer Kirk Kara. The company created a sketch "marrying" both styles. With the choice of the perfect diamond, the ring was created at the company.
Completely hand crafted and hand engraved
, this ring will last a lifetime.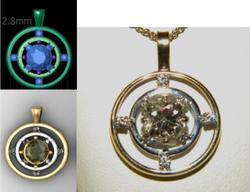 Customer #3:
Imagine inheriting wedding rings, generations old, possibly from the gold rush days, filled with family history. What to do with it? This lovely lady worked with Chris to design
an incredible pendant
, using two wedding rings placed on their sides, forming concentric circles around her beautiful center stone. This "frame" had to be handled with care due to the age of the metals. Wouldn't it be nice if every piece of jewelry had a little talking micro chip inside? Before work was begun, a voice would say "STOP! I am 150 years old and have been worked on before."
Fortunately, we are very blessed to have an incredible craftsman at our disposal who has been creating and working with metals for over 50 years. He can look at a piece and almost tell you what it would do when heated. He hand crafted the frame, using the bands, set four stones between the two rings and handmade the center prongs for the stone. The end result is breathtaking with an individual story that will hopefully last for many generations to come. Take a look at the computer sketch and the final product.
Hopefully, with these stories, you will see that if you think of an idea, it can be done. And if you need ideas, we have plenty of those too!
Computer generated pictures are on the left, with the final product on the right. Do you have someone in a drawer that tells part of your story?