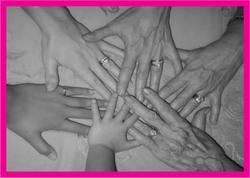 I was commenting to a friend recently that I could use just a little "dull." I wasn't asking for much, just a moment of pause. He chuckled.
A lot has happened to our family in the last 8 months. Forever changed with Terri's death, jobs were reassigned, another life long friend was diagnosed with brain cancer and to put the icing on the cake, in mid March, Dad received some bad news. But, like they always have done through 68 years (really) or marriage, Mom and Dad take it as it comes with hope eternal.
My friend awoke from her brain surgery with the very real image of a small gold chair in the bottom right corner of her brain. She struggled with its meaning. Finally, she found that it is her safe haven, the place she goes when her friends carry her on their shoulders when she needs to be lifted, the place she goes to rest, to surrender, and weep when needed; to go and sit and seek refreshment, solitude or just breathe.
She begins each day with the following:
Life teaches us its lessons through opposits; we cannot see love if we have never witnessed hatred; we cannot perceive the value of family and of people who love us most without living loneliness; and in the end, we cannot know our inner strengths and out true greatness without some suffering" (author unknown)
And
"Be patient to all that is unsolved in your heart and try to love the questions themselves. Do not seek the answers that cannot be given you. Because the point is to live everything; live the questions now, Perhaps you will gradually, without noticing it, live along some distant day into the answers" (The Healing Circle, Rutledge and Walker)
.
We are all connected by the lives we lead and where God places us. Personally, Terri taught me to take each moment for what it is, get through it and move on to the next. Our lives are interwoven and perhaps the lessons learned through Terri's illness have brought us to the next chapter just begun and yet unwritten, but forever and eternally filled with Hope.
To our friends and customers who have sent their well wishes and prayers, we thank you. Perhaps we have all carried each other in our "golden chairs."
Blessings,
betsy