Each year when the jewelry show is completed, we have some new ideas that we feel fit our store and our customers. New designs or lines are chosen specifically with our customers in mind.

A line I loved this year is Asher Jewelry, a family owed company offering an incredible selection of colored diamond jewelry that is versatile and flexible in design. If a piece is displayed in white gold with blue diamonds, it may be ordered in rose gold with champagne diamonds, yellow gold with white diamonds, etc. There are few places today offering an array of choices and designs with quality as their benchmark, though priced less than similar lines. You can see two of their award winning designs posted here.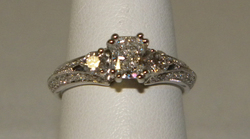 Sentimental Expressions, designed by Deborah Birdoes, fits any special occasion or situation. There are hundreds of choices starting at $59.95. The Love Knots pendant and Protected Heart pendant are shown here with their poems. Stop in and take a look at our selection and the catalog. Most are available and ready to ship. Great ideas for honeys, moms, dads, friends, attendants gifts, support, etc.