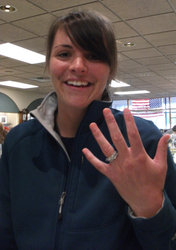 In this age of technology where our lives are communicated via electronics, where does jewelry fit into gift giving plans? Is jewelry a "need" or a "want"? Why do people want to buy jewelry? Because it's a GIFT; personal and special and it speaks volumes to say to another; " I am giving you this just because." Jewelry giving reaches beyond what's expected and creates surprise, emotion and validation. It says "Thank you" for all you do; "I am so proud of you"; "I'm sorry." Jewelry connects us with each other on an emotional level because the giver did something unnecessary which resulted in raising the spirit of the recipient. That human connectivity makes jewelry a "need" more than a "want" given in the true spirit of giving.
So the top FIVE reasons why jewelry is a win/win for gift giving?:
5) Saying "I'm sorry" when I wasn't listening, didn't do, forgot again, etc..
4) A gift that may be passed down for generations to come.
3) Because I want she/he to be as joy filled as the lovely young lady pictured to the right!
2)Takes communication away from the iPhone and into the heart
1)The gift, reminds the wearer that he/she is loved and remembered, cherished and valued.