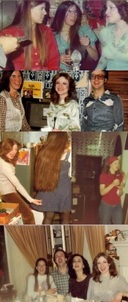 Wishing someone joy and happiness when they retire is something all of us do, especially for those of us who are reaching "that" age. But when it is someone who you have worked with daily for decades, you pause and reflect on those many years. So it is with both smiles and sadness that we announce that Chris Mathews is retiring after 39 years of incredible service to our customers! I wish we had counted the number of diamonds graded, sold and checked, batteries changed, watchbands adjusted, gifts wrapped, bows made, hugs and smiles exchanged. In the days before computers, Chris always brought organization and order to our often crazy world. Her sense of style is incredible in her interaction with customers, her ability to redesign and customize customers' treasures, designing displays and in her own personal style and grace. And after a few calculations, I estimate Chris has worked over 9500 days.
Our Diana's family has certainly been through so much together, both happy and sad. With the passing of our friends and co-workers, Peg and Pat and most recently our Terri, Chris has always been incredible at stepping in, assessing what needs to be done and helping in the most difficult times. I am personally forever grateful.

What do we wish for you as you continue your journey?
-snowy mornings in your pj's instead of fighting getting out of your driveway to get to work
-unlimited very well done cheeseburgers with grilled onions and toasted buns
-hopefully many visits with your Dad
-pizza bread
-no more last second dashes to the post office
-relaxing days with no rushing
Most importantly we wish you peace.
A blessing from your Irish heritage:
May you live a long life Full of gladness and health, With a pocket full of gold As the least of you wealth. May the dreams you hold dearest, Be those which come true, The kindness you spread, Keep returning to you.
The Timeless Beauty of Pearls… by Madalyn aka "Mrs. P"
Women have varied skin colors and tones defining their beauty. Pearls enhance all skin tones. Whether eggshell, pink or cream, pearls compliment the wearer and complete any "look"' in slacks, business suit or formal gown. Their versatility is evident from queens and first ladies to that first date complimenting the "little black dress." Their elegance is quiet and pleasing to the eye. Poetry is written comparing a pretty woman's eyes or teeth to lustrous pearls. For our high school yearbook picture it was suggested a string of pearls would be the thing to wear. That was the 40's with marvelous Big Band music and Benny Goodman's classic hit titled "A String of Pearls". While hair, dress, dances, etc. are different today than then, pearls still compliment the wearer.
It was also in the 40's that I realized that "real" pearls were from an oyster and simulated pearls were not. When I saw the simulated pearls I thought they were lovely and more affordable, as most could not afford real pearls. In the early 1920's, the cultured pearl came into being, changing the pearl industry forever. Until then, pearls were formed when the mantle tissue of the oyster was injured by a parasite. The mantle responded by secreting nacre into the pearl sac, a cyst formed during healing, and calcium carbonate and proteins in the nacre built up in layers, forming a pearl. Laying down beds of oysters after irritating the mantle tissue with a manmade bead produced the same result.. a beautiful gemstone after 7-9 years in the warm seas.
Another fond memory of pearls in my life was my wedding day. I am the middle girl of three daughters and the first married. My older sister was my maid of honor and her slipper satin dress was "French Blue" while my younger sister's gown was "Ashes of Roses". After 69 years I have never forgotten those colors – they were so descriptive. Because of the neckline of the dresses, we decided on a string of pearls dyed to match the gowns. The coloring process was immediate because pearls are so porous and vulnerable to any penetrating substance. (The pearls looked great with the gowns and we used simulated pearls because of the cost.) If you are fortunate enough to own a strand of pearls, and wish to maintain their natural beauty, Never expose your pearls to any cologne, perfume or hair spray or clean them with anything except special pearl cleaner or mild soap and water. Diana Jewelers offers restringing pearls as the cord used to string and knot the pearls deteriorates and needs to be restrung due to wear and exposure. In my experience restringing pearls, it is increasingly evident that women do not realize the vulnerability of pearls.
When a woman gets ready for an evening out or a special occasion, she may put her jewelry on and then spray on her favorite scent. Don't do that please! This will discolor your pearls making it impossible to get their lustrous hues or colors back. Make the pearls the last item you put on after deodorant, sprays, perfumes, hair spray, etc. I have seen many lovely pearls discolored from sprays and scents. Damage to the surface of pearls affects the natural beauty and reduces their value. Wear your pearls often and enjoy the softness they seem to give your skin and the inherent beauty they add to your "look". They really add something special to the total woman and to her feminity.