Sentimental Expressions
, designed by Deborah Birdoes, fits any special occasion or situation. Each style has a poem specifically written for that design. The romantic style below is entitled "You complete me." Stop in and take a look at our selection and the catalog. Most are available and ready to ship. Great ideas for honeys, moms, dads, friends, attendants gifts, support, etc. In sterling silver, prices start at $79.95.
Birthstone Tree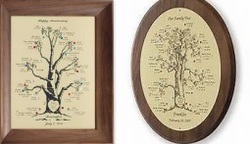 For a unique gift that celebrates family, stop in and see the Family Tree plaques.
Complete with birthstones, this is a perfect gift for any family celebration; wedding, anniversary or birthday. Available in either silver or bronze tone, each is customized to the individual family with additions available as needed. Samples are available and we will be happy to answer any questions

Mother's Pendants
in sterling silver with birthstones that slide with the pendant. No customizing required.
From The Heart
As part of the From the Heart program, we will be collecting entries in a drawing for your favorite charity. For the month of December, you may submit your favorite charity by stopping in and entering the charity in our drawing. The winner will be selected on New Year's Eve. The winning charity will be given a check for $200.00
Whatever you do, do from the heart, as for the Lord and not for others, knowing that you will receive from the Lord the due payment of the inheritance". ~ Colossians 3:23
Diana's fun fact:
Mr. Palladino attended Morrisville College on the GI bill, he received his Associate's degree in watchmaking and then worked at GE for 7 years before he and Madalyn opened Diana's in Liverpool in 1958.
Lafonn

Lafonn is sterling silver, platinum finished gorgeous jewelry with hand set simulated gemstones that has style fit for the red carpet. Prices start at under $100 and come beautifully boxed. Stop in and take a look at this heart stopping line that will make you say WOW!
And other Gift Ideas
Classic elegance in incredible styles that fit any occasion in 14K and 10K yellow and white gold, sterling silver and gold filled.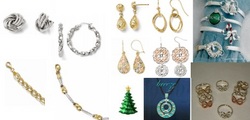 Jewelry Moments and Memories

Remember the spoon jewelry from our earlier days? A customer brought in flatware handed down and thought that making something for the ladies in the family would be perfect. The result was an assortment of bracelets and ring that were beautiful and held a memory for the wearers as well. Another wonderful life story is the 60th anniversary bracelet created by a wonderful gentleman and his daughter for his bride of 60 years. The bracelet told their story; his life in the service and the many places they lived in the US and in other countries.

The charms symbolized their children, grandchildren and great-grandchildren. Hand engraving added that special touch including pictorial engraving of his rank. We wish them the very best and were privileged to be part of their story.