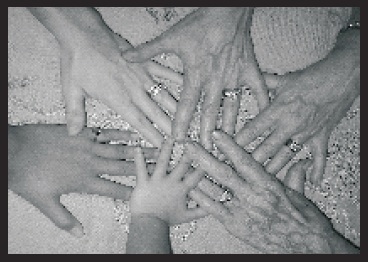 A friend gave me a verse describing life's experiences as a piece of fabric woven together in a beautiful pattern. We don't appreciate that until we look back on our life. We are so intent in the moment that we forget the overall picture. This past year had its share of "tears" in the fabric with the loss of our Mom. What a long and winding road traveled full of events, some good and some not, that brought us to the end of her life here with us.
We are different people because of our experiences with Mom. These changes allow us to be more aware of our father's needs, advocating and protecting his rights. When his time comes, we will be changed again and meet the next chapter in life.
People are so quick to judge end of life experiences as negative. They totally miss the joy because all they do is mourn what was and forget to be aware of what is. "I never want to live that way" or "if I ever lose my mind, just shoot me." are common feelings. But people at the end of life are constantly changing the lives of those around them through simply being. If we do not put expectations on how life used to be or should be, we are open to the joy of how life is. And that's not easy. But it is so worth it.
The Sunday after Mom passed, we were in Mass and I was feeling a bit weepy. It was May and they played Ave Maria during the meditation. I closed my eyes and clearly saw my Mom in the housecoat she wore to the hospital, kneeling with folded hands. In a second, Mary walked toward her and embraced her. In the next second, Jesus came from behind Mom and embraced them. And there was peace. I knew there was no more pain.
Late one night, I was up struggling with Ben's financial forms online. Passwords forgotten led to a grumbly mother. I went to Facebook and opened a message from my cousin's wife referring to wonderful "Aunt May". When I went back to the financial aid page, they suggested changing the password to the first letters of a sentence easy to remember. The example they used? "My Aunt May was born in 1923." Yup, Mom was born in 1923. Then I heard "Now, go to bed."
Gifts of the Season abound year round. Merry Christmas and Happy Holidays.