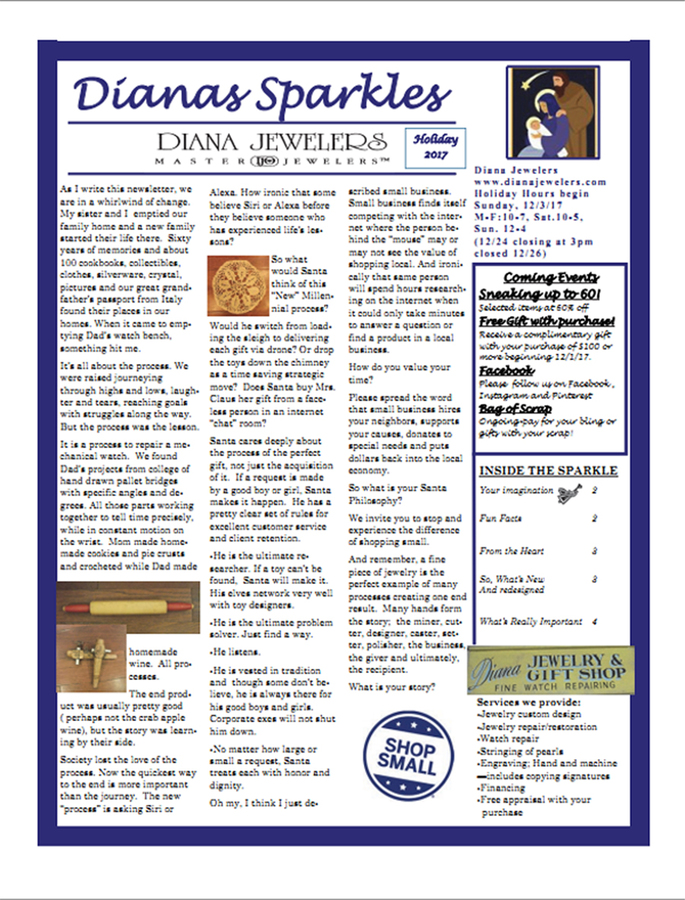 As I write this newsletter, we are in a whirlwind of change. My sister and I emptied our family home and a new family started their life there. Sixty years of memories and about 100 cookbooks, collectibles, clothes, silverware, crystal, pictures and our great-grandfather's passport from Italy found their places in our homes. When it came to emptying Dad's watch bench, something hit me.
It's all about the process. We were raised journeying through highs and lows, laughter and tears, reaching goals with struggles along the way. But the process was the lesson.
It is a process to repair a mechanical watch. We found Dad's projects from college of hand-drawn pallet bridges with specific angles and degrees. All those parts working together to tell time precisely, while in constant motion on the wrist. Mom made homemade pie crusts and crocheted while Dad made homemade wine. All processes.
The end product was usually pretty good (perhaps not the crab apple wine) but the story was learning by their side.
Society lost the love of the process. Now the quickest way to the end is more important than the journey. the new "process" is asking Siri or Alexa. How ironic that some believe Siri or Alexa before they believe someone who has experienced life's lessons?
So what would Santa think of this "new" millennial process? Would he switch from loading his sleigh to delivering each gift via drone? Or drop the toys down the chimney as a time-saving strategic move? Does Santa buy Mrs. Claus her gift from a faceless person in an internet "chat" room?
Santa cares deeply about the process of the perfect gift, not just the acquisition of it. If a request is made by a good boy or girl, Santa makes it happen. He has a pretty good set of rules for excellent customer service and client retention.
• He is the ultimate researcher. If a toy can't be found, Santa will make it. His elves network very well with toy designers.
• He is the ultimate problem solver. Just find a way.
• He listens.
• He is vested in tradition and though some don't believe, he is always there for his good boys and girls. Corporate exes will not shut him down.
• No matter how large or small a request, Santa treats each one with honor and dignity.
Oh my, I think I just described small business. Small business finds itself competing with the internet where the person behind the "mouse" may or may not see the value of shopping local. And ironically, that same person will spend hours researching on the internet when it could only take a few minutes to answer a question or find a product at a local business.
How do you value your time?
Please spread the word that small business hires your neighbors, supports your causes, donates to special needs and puts dollars back into the local economy.
So what is your Santa philosophy?
We invite your to shop and experience the difference of shopping small.
And remember, a fine piece of jewelry is the perfect example of many processes creating one end result. Many hands form the story; the miner, cutter, designer, caster, setter, polisher, the business, the giver and ultimately the recipient.
What is your story?
Imagination to Reality: Thank you for sharing your stories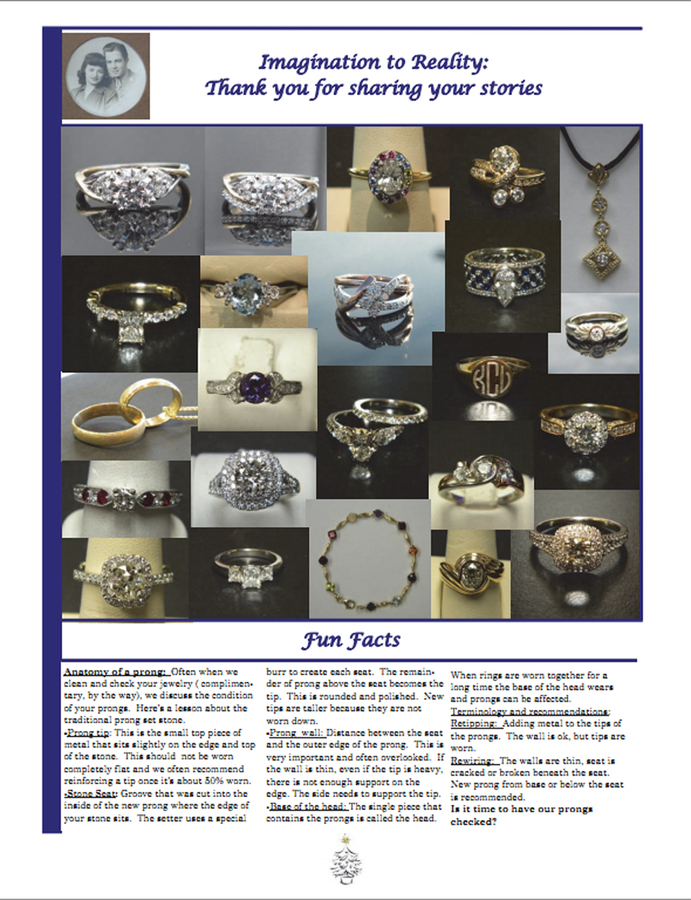 Fun Facts
Anatomy of a Prong
Often when we clean and check your jewelry (complimentary, by the way) we discuss the condition of your prongs. Here's a lesson about the traditional prong set stone.
•
Prong Tip
: This is the small, top piece of metal that sits slightly on the edge and top of the stone. This should not be worn completely flat and we often recommend reinforcing a tip once it's about 50% worn.
•
Stone Seat
: Groove that was cut into the inside of the new prong where the edge of your stone sits. The setter uses a special burr to create each seat. The remainder of the prong above the seat becomes the tip. This is rounded and polished. New tips are taller because they are not worn down.
•
Prong Wall
: Distance between the seat and the outer edge of the prong. This is very important and often overlooked. If the wall is thin, even if the tip is heavy, There is not enough support on the edge. The side needs to support the tip.
•
Base of the Head
: The single piece that contains the prongs is called the head. When rings are worn together for a long time the base of the head wears and prongs can be affected.
Terminology and Recommendations
;
•
Retipping
: Adding metal to the tips of the prongs. The wall is ok, but the tips are worn.
•
Rewiring
: The walls are thin, seat is cracked or broken beneath the seat. New prong from base or below the seat is recommended.
Is it time to have your prongs checked?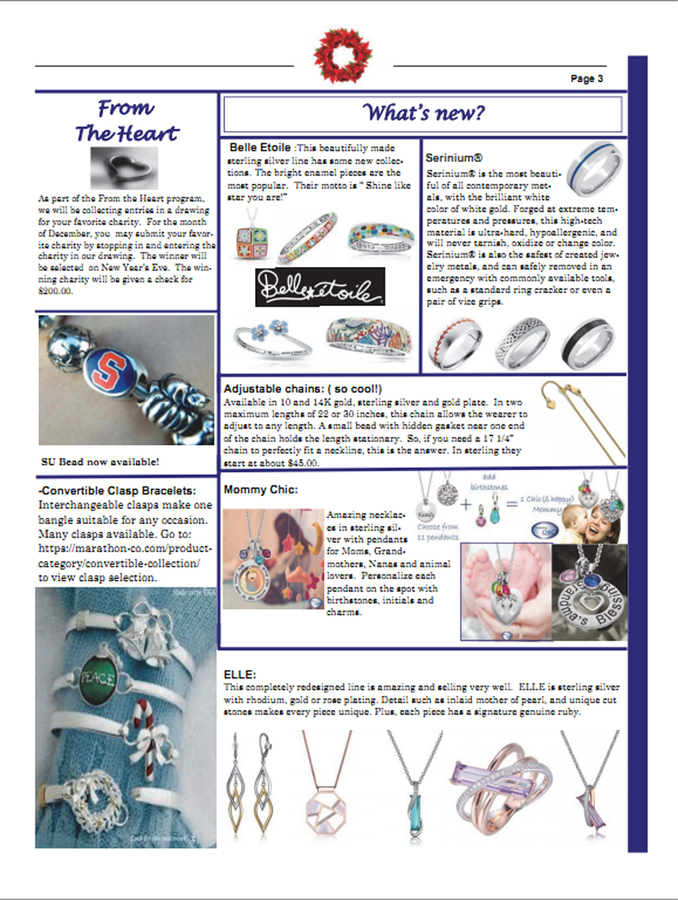 From the Heart
As part of the From the Heart program, we will be collecting entries in a drawing for your favorite charity. For the month of December, you may submit your favorite charity by stopping in and entering the charity in our drawing. The winner will be selected on New Year's Eve. The winning charity will be given a check for $200.00.
Convertible Clasp Bracelets
Interchangeable clasps make one bangle suitable for any occasion. Many clasps are available. Go to
https://marathon-co.com/product-category/convertible-collection/
to view clasp selection.
What's New?
Belle Etoile
: This beautifully made sterling silver line has some new collections. Their bright enamel pieces are the most popular. Their motto is "Shine like the star you are!"
Serenium®
: Serenium® is the most beautiful of all contemporary metals, with the brilliant white color of white gold. Forged at extreme temperatures and pressure, this high tech material is ultra-hard, hypoallergenic and will never tarnish, oxidize or change color. Serenium® is also the safest of created jewelry metals, and can safely be removed in an emergency with commonly available tools such as a standard ring cracker or even a pair of vice grips.
Adjustable Chains: (So Cool!)
Available in 10 and 14K gold, sterling silver and gold plate. In two maximum lengths of 22 or 30 inches, this chain allows the wearer to adjust to any length. A small bead with hidden gasket at one end of the chain holds the length stationary. So, if you need a 17 1/4" chain to perfectly fit a neckline, this is the answer. In sterling they start at about $45.
Mommy Chic
: Amazing necklaces in sterling silver with pendants for Moms, Grandmas, Nanas and animal lovers. Personalize each pendant on the spot with birthstones, initials and charms.
ELLE
: This completely redesigned line is amazing and is selling very well. ELLE is sterling silver with rhodium, gold or rose plating. Detail such as inlaid mother of pearl, and unique cut stones makes each piece unique. Plus, each piece has a signature genuine ruby.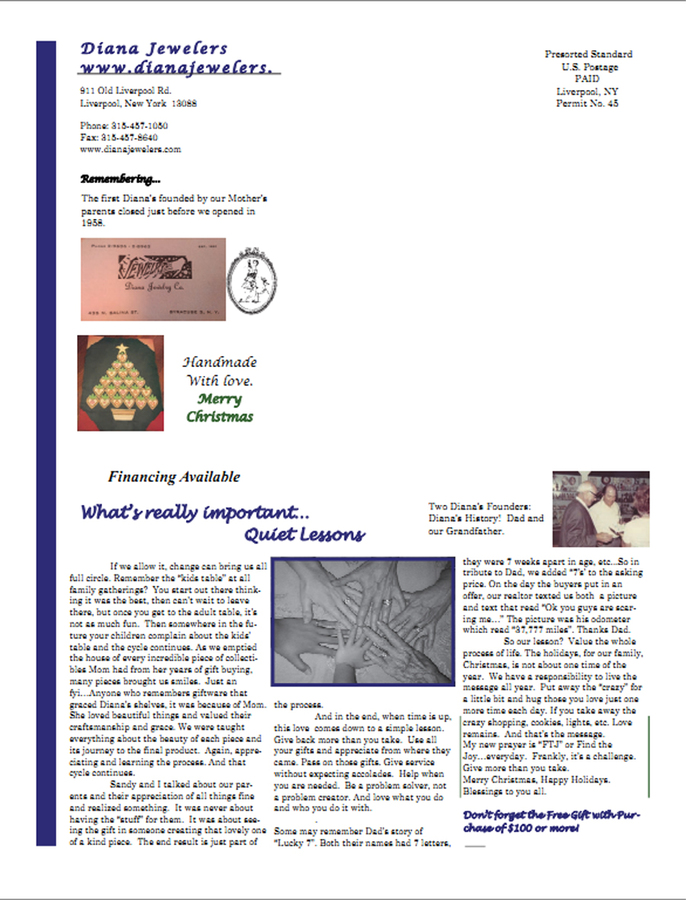 What's Really Important... Quiet Lessons
If we allow it, change can bring us all full circle. Remember the "kids table" at all family gatherings? You start out there thinking it was the best, then you can't wait to leave there, but once you get to the adult table, it's not as much fun. The somewhere in the future your kids complain about the kids' table and the cycle continues. As we emptied the house of every incredible piece of collectibles Mom had from her years of gift buying, many pieces brought us smiles. Just an fyi... Anyone who remembers giftware that graced Diana's shelves, it was because of Mom. She loved beautiful things and values their craftsmanship and grace. We were taught everything about each piece and its journey to the final product. Again, appreciating and learning the process. And that cycle continues.
Sandy and I talked about our parents and their appreciation of all things fine and realized something. It was never about having "stuff" for them. It was about seeing the gift in someone creating that lovely one of a kind piece. The end result is just part of the process.
And in the end, when time is up, this love comes down to one simple lesson. Give back more than you take. Use all your gifts and appreciate from where they came. Pass on those gifts. Give service without expecting accolades. Help when you are needed. Be a problem solver, not a problem creator. And love what you do and who you do it with.
Some may remember Dad's story of "Lucky 7". Both of their names had 7 letters, they were 7 weeks apart in age, etc... So in tribute to Dad we added "7's" to the asking price. On the day the buyers put in an offer, our realtor texted us both a picture and a text that read "OK, you guys are scaring me..." The picture was his odometer which read "37,777 miles". Thanks, Dad.
So our lesson? Value the whole process of life. The holidays, for our family, Christmas, is not about the time of year. We have a responsibility to live the message all year. Put away the "crazy" for a little bit and hug those you love just one more time each day. If you take away the crazy shopping, cookies, lights, etc. Love remains. And that's the message.
My new prayer is "FTJ" or Find the Joy... every day. Frankly, it's a challenge. Give more than you take.
Merry Christmas, Happy Holidays, Blessings to you all.
Don't forget the free gift with purchase of $100 or more