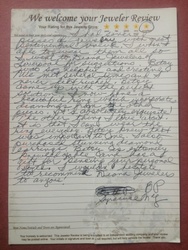 I had several pieces of jewelry with great sentimental value. I wasn't able to wear them all so I went to Diana Jewelers of Liverpool for suggestions. Betsy was so helpful and creative. We met several times and I never feel rushed. Betsy came up with the perfect solution. I now have a beautiful ring which incorporates diamonds from the other pieces. It's absolutely exquisite! The other thing I love about it is that I can wear the ring everyday. Betsy knew that was important to me. I also purchased stunning diamond earrings. Betsy is extremely knowledgeable and has a gift for sensing your personal style. I wouldn't hesitate to recommend Diana Jewelers to anyone!
B.P. – Syracuse, NY
At Diana Jewelers, you will enjoy an array of sophisticated jewelry ranging from
fashion rings
to an elegant pair of stud or drop
earrings
that can be worn all year round.