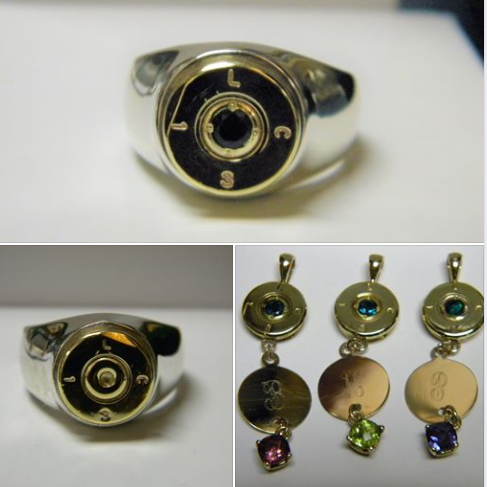 A client came in with shell casings from the 21 gun salute at his Dad's funeral with the intention of making pendants for his two sisters and his wife, and rings for himself, his sons and nephews.
We created a triple layer pendant for the ladies: the top circle from the casing, the middle an engravable disc and below, their personal birthstone.
The center disc was personalized with their initial and engraved on the back.
In the center of the casing, we set a created emerald, which was his father's birthstone.
For the gentleman, the round disc from the casing was soldered on the top of a sterling silver signet ring and the inside of the ring engraved as well.
Personalized engraving on the back of the lady's disc and inside of the ring said "Dad" or "Grandpa", making this memory even more personal.