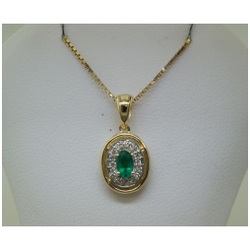 Yellow Gold Emerald
with Rhodium Diamond Area Pendant
Emerald, the birthstone for May, has a popularity that stems back from the huge admiration of pharaohs and royalties for the rich green gem. As early as first century B.C., a Ptolemaic king owned an emerald stone carved with the image of the great Roman emperor, Lucullus. Additionally, Cleopatra was also known to have been so fascinated with the radiance of emerald stones that she often used them for her imperial adornment.
Earliest deposits of emerald were actually mined in Egypt. In fact, when Cleopatra mines were rediscovered in 1818, they found a portion of low quality emeralds which are now displayed in museums.
As of today, Colombia is the most important source of emerald followed by Zambia. Other producers are Australia, United States, Germany, Cambodia, Canada and Brazil.
Emerald, the green form of mineral beryl, registers a hardness rating of 7.5-8.0 on the Mohs scale. In its rough state, majority of emeralds are highly included and contain numerous surface breaking fissures and cracks. To improve the apparent clarity of the stones, they are often oiled. While oiling is largely acceptable and very common in the gem trade, the U.S. Federal Trade Commission mandates the dealers of emerald to disclose the treatment.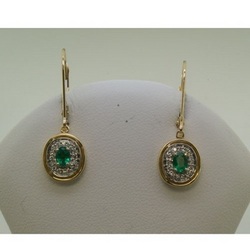 Yellow Gold Emerald
with Rhodium Diamond Area Earrings
The same beautiful vibrant green as the nature's wonders, emerald is breathtakingly a stunning choice for a full line of exquisite jewelry. From fabulous emerald rings to designer necklaces, pendants and earrings, these precious pieces will definitely enhance any style of outfits and occasions. Whether you choose to embellish it with diamonds and set them on sterling silver, white or yellow gold, or palladium, every single emerald piece resembles the beauty of the earth's scenery making it a lovely gem to wear for special events.
Emerald jewelry makes a perfect gift for birthday, graduation, as well as the 20th, 35th and the 55th wedding anniversary.